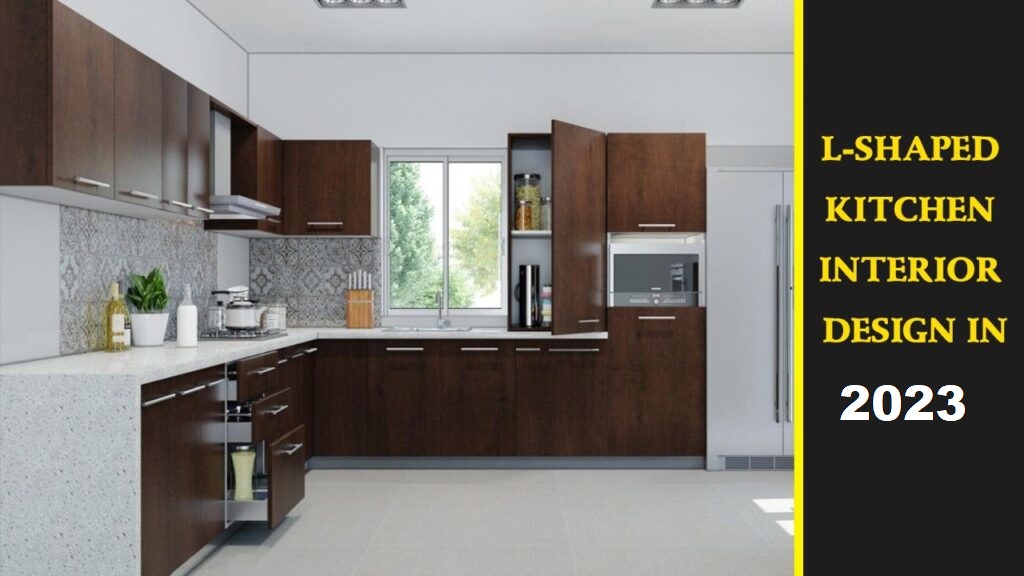 L-shaped kitchen interior design
An ideal view of L shaped kitchen interior design
Modular Kitchen is one of the latest trends in the modern interior design world. Every household has an urge to have a modular kitchen. However small the kitchen is, interior designers can design it with creativity. Every designer decides the best-suited design for a modular kitchen. Usually, there are various types of designs for a modular kitchen. Clients have their choices for designing their enigmatic kitchen space. They prefer to have different kitchen islands in the required spaces. But designers make plans in such a way that the L-shaped kitchen would be a wise choice and perfect for all sizes of kitchen space. Indian Kitchens are mostly in L shape. The major highlight of this featured kitchen is it can fit in all sizes. For more details about Kitchen interior designing contact Spacey Interior designers.
Various L- shaped designs for a modular kitchen
The commonly chosen type of kitchen is L shaped Kitchen, There have been various designs and patterns in an L-shaped Kitchen Every kitchen is placed in an L-pattern with sufficient kitchen island directions. There are kinds of L-shaped patterns
Small L- Shaped Kitchen
Medium L-Shape Kitchen
Large L-Shape Kitchen
L-shaped Kitchen Designing is easy to work and maintain when compared to other kinds of patterns. The colour combination and the various other assessment work is easy for an L-shaped Kitchen. Here are a few designs ideas for an L-shaped kitchen interior design.
Small L-shaped kitchen designs:
Here are a few L- shaped kitchen patterns that are fitted for a small space household, where only a less amount of sq ft is provided for a kitchen. The smallest of the smallest kitchen is an L –shaped pattern. The Small L-shaped kitchen gives a spacious outlook to the whole household. Here are a few:
Glossy finish with a white background:
Every kitchen has a uniqueness, here being the L shape pattern, the glossy finish gives attractiveness to the client. The cabinets are arranged in a logical order with the kitchen island to be accessible. Glossy interiors are bright and easy to make a compact look.
L-shaped window kitchen pattern:
An L-shaped kitchen is designed near a window which serves as a limited-space kitchen. The window acts as a natural chimney and also the kitchen island is made short enough for the client's comfort. The refrigerator is placed in an adjacent manner to the kitchen island.
Low-Cost kitchen:
A low-cost kitchen is one of the most ideal designs that clients prefer to have at a less interior design cost. They have the least design and a simple fine finish in the space. The cabinets and the other shelves are all made to be in a single colour. The design is a compact space for the kitchen.
Glass partition:
A small kitchen is designed within a living space as well. Glass Partition is made into an L shape kitchen with a neat kitchen island. The kitchen is made compact and unique. Designers have a passionate mind to create such kitchen spaces.
Corner kitchen:
A corner space of the household is a vital idea to design a modular kitchen. With just two colours in combination and the L, shape locks the corner of the kitchen space. The cabinets are even below the kitchen island.
Medium L-shaped kitchen design:
This kitchen space is quite medieval in size that holds in a 2BHK apartment or 2BHk Simple household. Designers provide innovative solutions for these kinds of natural spaces. They see to it that the kitchen fits in a particular space without any hassles. Spacey interiors provide exquisite interior design services for a perfect kitchen interior design. Here are a few medium L- shape Kitchen interior design ideas
Open layout:
A medium kitchen with an open format is one of the ideal choices for a 2BHK apartment. A few of them would have a kitchen cum dining space, for which this is the best option. The kitchen space looks spacious and mind-blowing for the client's comfort.
Centre Island:
A bright kitchen with ardent woodwork is also a wise choice for a medium kitchen. A centre island is an asset to the kitchen interiors. People make use of this island with full freedom. This island is considered to be a small dining space or s sit-out.
Country Style:
A rigid strict country-style format is one of the trending designs. A colour backsplash is a major addition to designing the latest modular kitchen to avoid splashes of oil or other liquids on the walls. It is a contemporary style of design.
Large L-shaped kitchen designs:
Usually, rich and ravishing designs are seen in a perfect modular kitchen. Best Interior designers bring creativity in front of our eyes within a stipulated window in making L shape kitchens. They design a fantasy world through their modular kitchen design. Look at the designs that fascinate us.
Extended kitchen counter:
This design is apt for a large modular kitchen. The kitchen counter is long and is an extended L shape. It is designed at a lower level for easy use. This suits a large family as one or more people cook in the space. Back Splash is a must as there are a lot of possibilities of spillage of liquids.
Blue enchanting kitchen:
This kitchen is designed with a high-level glossy finish. Designers make use of the vast space with innovation and enduring ideas and bring beauty to the kitchen. Extra spaces for the electrical appliance are also part of the kitchen space.
Wooden flooring:
Usually, elegant and rich clients would prefer enchanting kitchen designs. They bring in artistic pieces as part of the furniture. Many clients would want their kitchens to be spacious and wide. The cabinets are placed at the right corners and spaces without any hassles. Ventilation is also considered in their perspective. The L-shaped designs are impressive by attaining all the aspects to design a kitchen.
Extravagant modular kitchen designs for all
Many of us would always check the priority and space present to design a kitchen. For this purpose, L-shaped kitchen interior designs are the best choice. Spacey Interiors, one of the top-class interior designers in the down South have been designing extravagant modular kitchens for their clients. Intriguing kitchen designs are vast across the globe and interior designers bring them alive with passion and love. No more waiting contact Spacey for L Shaped Kitchen Interior Designs.