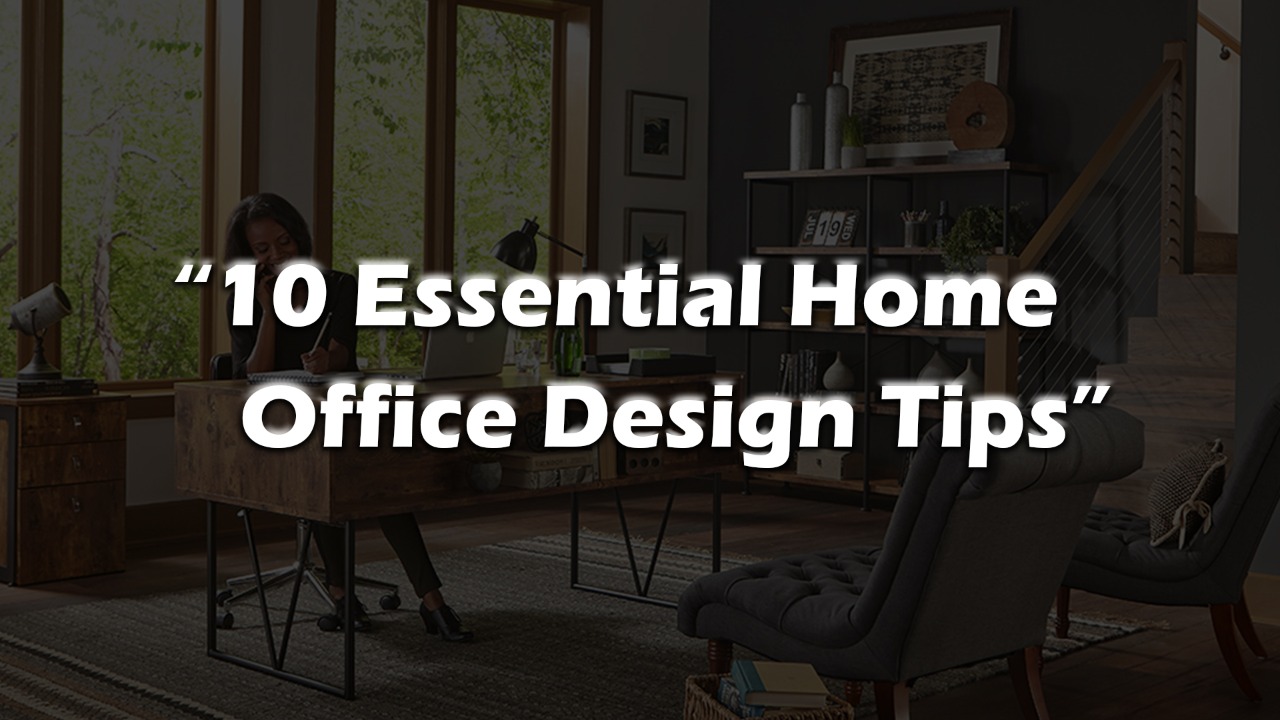 10 Essential Home Office Design Tips
Are you planning to add a home office to your home? Need essential home office design tips?
when creating a productive workspace at home, we only need a small hall or bedroom, or just the corner of a room if your residential interior design will be located as additional.
If you spend the full work week there or even just a few hours, it's important that your home office be a comfortable and inviting place to spend time and to get your work done efficiently.
Read more for our 10 essential home office design tips for creating a beautiful and practical home office design:
Take a good look at your home

But remember that your workspace should also be an inspiring one

Remember Working Necessities

Consider what you actually need and work from there

Don't Strain Your Eyes

Clear the Clutter

Get Comfy

Consider the Color

Inspiration

Working Flow
Take a good look at your home
You need a room of your own house away from the noise and disturbance of family life, in order to work most productively and efficiently.
Also, it is much easier to achieve a productive work and life balance if you could shut the door on the place where you run your business.
Take a good look at your home and identify an unused room where you'll be able to focus.
It is not at all need to be a huge space but should be comfortable enough for you to work in.
The space could be a spare bedroom or even in the garden shed with a good green environment.
Remember that your workspace should be an inspiring one
Too much dumping can cause your desk to look messy, here are a few choice things that can truly inspire you.
A special painting, Postcards of places you love, pictures of businesswomen/Men that inspire you, or even a mood board, small plant-like succulents.
Things will help to get you in a creative frame of mind when you sit down to work.
But keep one thing in mind that not be overboard. Follow all these essential home office design tips to your workspace and avoid too much clutter that can clutter your mind.
Remember Your Working Necessities
Use all your electrical and electronic needs. Do you have enough electrical and electronic devices to use? is it possible to run a phone line and Wi-Fi or internet connection into the room? Would you be needed a power strip?
Of course, you will, so remember this step if you rely on our interior design company.
Consider what actually you need and work from there
The main point of creating a home office is that to get a comfy space to work.
You may like your workspace should be freestanding desks and contemporary design, but before purchasing any furniture ask your interior designers whether it is practical and functional.
If you need a lot of storage space for documents and files, make sure you search for a desk or table with a built-in drawer and tall shelving space.
Think about how you'd like to organize your space and how you store your filing. and Desk organizers and some decorative items will help you stay on top of things.
Once you know what you need, then you can start suggesting your best interior designers for what you want.
Don't Strain Yourself
One of the main reasons for selecting a home office is not having to sustain with harsh fluorescent office lighting.
As an Essential Home Office Design Tips, this step conveys that a window is a must for a home office setup, with a nice view and some natural light that can help you work better.
For a busy day or work in the evening, a bright desk lamp is essential.
Clear the Clutter
Keep only the things on the desk which you use most often.
Decorative or sentimental objects will be great for a home office, but it's usually best to keep them on a shelf that's better in order to stay safe and not being disturbed.
Get your Comfort
Proper and comfortable seating for yourself can enhance the work's productivity.
Don't ever underestimate the importance of a good office chair.
Consider Color
Keep yourself surrounded by colors that inspire and motivate you.
Convinced for Essential Home Office Design Tips? Always pick a color that is a bold shade while still remaining approachable and calming. Or ask our interior designer in Nagercoil.
Keep inspirational quotes
Having some inspirational quotes and something to keep you focused is a good idea in your home office.
This might be a goal planner strategy, where you can track your monthly progress.
Keeping a vision board, a little framed quote on your desk, or keeping small plants are also good ideas to keep yourself energized.
Work Flow
That is all for now! Anyway, you know your best. You know your job and how you like to work from.
That being said, those essential home office design tips make it easier for you.
What items are you regularly using on an everyday basis? Pens, files, highlighters, paper?
It should be near your hand's reach.
It might be anywhere in the open on the desk or a shelf. Or maybe you would prefer it to be hidden away.
Decide on what are necessaries and where to keep them close by.